Joined

Nov 23, 2017
Messages

454
Reaction score

185
6/3 Update
So.... the 9 laser chips illuminator arrived today, it works and it is good! run lurk warm (not hot at all, i can hold forever) even in my chilly basement but since it will only be on at night with no Sun, that should not be an issue. Same great tight and bright as the 4 chips one. I was able to knock down my gain to 25 with 1/1000 shutter (enough for my head on application) and 100% open iris. It seem to be a case of diminishing return though, upping the shutter to 1/2000 some plates start to become dimmer than I would like. Seller claimed he customized it for 15w output, but my killawatt show 19.5w
-- Original post below
I have this thing throwing TIGHT and BRIGHT 850nm IR out to 250ft for my LPR camera. about $42 shipped from China, 2 days to ship out and 4-5 days in transit, final delivery for me was via UPS ground. I'm not affiliated with this seller/company and I paid out of my own pocket for this unit (NOT a free after review shill)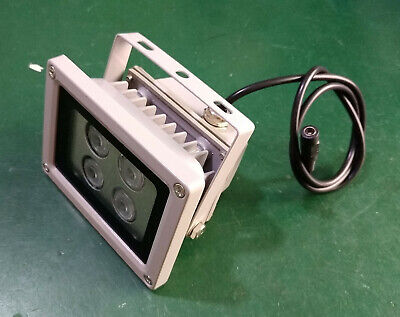 Find many great new & used options and get the best deals for 10W VCSEL Laser InfraRed Illuminator(Multi Beam Angle Options) w/ Dimmer+Adapter at the best online prices at eBay! Free shipping for many products!
Claimed 10w, Kill a watt show 8.6w without a dimmer so probably 4x 2w chips with some conversion lost.
Some dissection pix. pretty typical construction, a plus is that every opening have a gasket to keep water out. The glass is actual glass (not plastic) and pretty thick too.
The Lens looks like convex lens with silicone glue to the PCB, I was able to take them off with a little twisting action. The LED PCB appears to be glued to the housing somehow, I guess this will help with heatsinking.
Driver PCB looks clean but typical of this type of illuminator, its attached with 1 screw and a stand off, so any heat sinking will mostly be by convection to the housing (ie not good)
on closer examination I do believe it is vcsel. The enlarged view show the typical vcsel grid/array that I don't think we see on ir led chips. Tried my best to take a pic but you can see the stagger grid pattern toward the bottom of the chip, it is much more visible to my naked eyes
Short range basement test with the 7 degree secondary lens and without, it is very tight and very sharp cutoff compare to typical narrow focus IR LED illuminator
Without 7 degree secondary lens, (only the on chip primary lens)
Real world 250ft results, taken with my overview camera
Without Laser
Last edited: